$349 Full Conference ($299 per person when two register together)
$199 Friday Only
$149 Saturday Only
$80 "Inspiration" Spouse (with paid registration only – fee to cover meals)
$60 Child/Teen Option (with paying adult only – fee to cover meals)
$50 Thursday Pre-Conference Session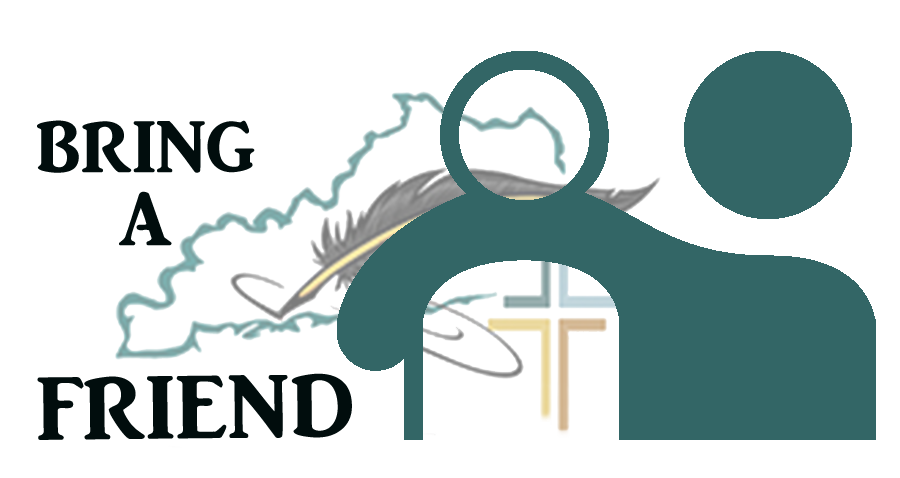 Receive Early Bird pricing if you register with a friend.
Double the fun. Double the discount! Our Early Bird pricing may have ended, but you can still keep this discount of $50 off PER PERSON if you register with a friend.
Choose the "Bring-a-Friend" option on your registration form and list the name of your friend so we can watch for their registration to come through. You must each register as individuals but will be invoiced at the discounted rate once we receive both registrations. 
Please complete and submit the Google form by clicking on the "Register Now" button below. Fields with a red asterisk are required; the form will not allow submission until that field is complete. When you have submitted the form, you will receive a Google notification email at the address you provided that provides you a copy of the form submission for your records.
A PayPal invoice will be sent by our registrar to your email inbox within 48 hours after the form is submitted. You may pay using your PayPal account, or you may use PayPal to process a credit card. You may also choose to send a check to the address listed on the invoice.
Your registration is not complete until payment is received in full.
PLEASE NOTE: Registration does NOT include lodging. Click the Lodging button below to be directed to a page with a convenient list of hotels. Five rooms are available at one hotel at a group rate for KCWC attendees (first come, first served); others are at standard rates. You are responsible to make lodging reservations and pay the bill.
To learn more about the Thursday Pre-Conference Session (a four-hour writing workshop) click the button below.
If you have questions or problems using the Google form, please contact Janet Morris Grimes, the KCWC Registrar, using the button below.
KCWC celebrates and uplifts God's perfect design for biblical marriage (Gen. 2:23-24). Even if your spouse doesn't write, we recognize the power, impact, and inspiration his or her support has on your writing. We welcome you to bring your spouse along during scheduled mealtimes. Your spouse will not only enjoy delicious and affordable refreshment and dining, but also can network alongside you and while enjoying entertainment and taking part in any scheduled mealtime activities. 
Your spouse will also have access to the prayer room and designated common areas during hours other than mealtimes. We only ask that you cover the cost of meals and sundry incidentals, which is just $80.
NOTE: Non-attending spouses will be issued a special badge recognizing them as INSPIRATION and shall have unlimited access to the prayer room and other designated areas within the facility during the entire conference.
Any child age 10 to 17 may attend for just $60 to cover the cost of meals when accompanied by a paying adult.
Christ our Lord instructed his followers not to forbid children from drawing near to him (Mat. 19:14, Mar. 10:14, Luk. 18:16), and KCWC desires to fully obey his leadership.
Purchase your ticket, then bring all of your children age 10 and 17. We will give them access to the full conference, including training sessions, keynotes, worship, the conference app, the prayer room, entertainment, and activities right by your side. Their access is completely free and our gift to you. We only ask that you cover the cost of their meals, which is just $60 per child.
KCWC will cover all other costs for every child who attends. We are on a mission to train the next generation of writers. It is our pleasure to offer this family friendly opportunity this year as we return to an in-person conference. If your children have an interest in writing great books from a Christian worldview, we have an interest in serving them with world class training.
NOTE: All children will be issued a special badge recognizing them as FUTURE CHRISTIAN WRITERS and must be accompanied by a paying adult.
Will there be a virtual attendance option?
A Note from the Planning Committee
In 2020, KCWC had to abruptly cancel our in-person conference and convert to an all-virtual conference. It was a time of uncertainty and concern for everyone. Many of us faced seasons of grief as we received unexpected news of lost friends or loved ones. The challenges imposed by different evolving regulations coupled with the legitimate health concerns of many conferees and faculty seemed just too great to overcome. We toyed with the option of canceling completely (as many other conferences had already done) but all of us, unanimously, rejected that. Back then, we knew this community of writers needed our conference, but weren't sure how to make it happen. Though we had never offered a virtual conference before, we still felt led to deliver the kind of quality and value conference you have come to expect for over 20 years. Through it all, we trusted the Lord. We prayed hard. We turned it over to Him. Ultimately, we all came together and made it happen.
That year, we welcomed over 300 attendees—authors and aspiring authors of all ages—from as nearby as Paris, Kentucky and as far away as Paris, France. The feedback we received since then has affirmed that we met the need of our community.
In the following two years, we refined our processes and hosted all-virtual conferences that welcomed hundreds more from all over the planet and delivered quality content and lessons on craft, marketing, technology, and the business of writing. But all along, in our hearts, we longed to come back to our roots and host a world-class in-person conference complete with worship, games, networking, a prayer room, and reconnecting after all our lives had been so scrambled by world events. This year, we committed to returning to an in-person conference held right here in the heart of the Bluegrass. Everyone involved are-volunteers and the logistics, coordination, and just plain hard work involved in pulling off the kind of in-person conference we envision can feel daunting. Please keep us in your prayers as we strive for the kind of excellence we know you expect and our Lord deserves.
As I write this, we, the members of the committee and executive board, have only very tentative plans to explore some kind of virtual option. We have not finalized any plans because we are not certain what is possible and what is simply not going to be possible given our current resources. To be fully transparent, we are focused on making our "return to in-person conference" the very best conference anyone could ever hope to attend in terms of keynote, content, community, youth, catering, and cost. Given the remaining time and the work ahead of us, we are not certain a virtual option will be a possibility this year.
If you feel you cannot attend in-person based solely on cost, please explore our scholarship options. If you feel you can only attend virtually for whatever reason, I encourage you to subscribe to our newsletter which will ensure you will receive the fastest updates and news as October draws closer.
In Christ,
Gregg Bridgeman on behalf of the KCWC Planning Committee