by Carlton Hughes
My first Kentucky Christian Writers Conference was in 2005. There I was, a teacher from Southeastern Kentucky, thinking I stood out like a sore thumb.
What was I doing there in a sea of talented writers? I had dipped my toe into the choppy writing waters and thought I could get some publishing advice. I learned God had a plan for me at that first conference, unlike anything I could plan for myself.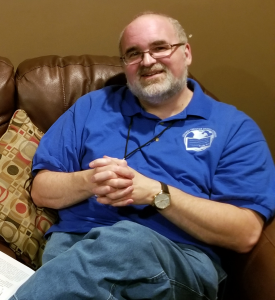 God connected me with like-minded people who remain good friends. There was an editor from Thomas Nelson at that event who agreed to look at my work. Thomas Nelson wasn't the right place for my material, and this editor ended up leaving the company a couple of months after KCWC. But my friendship with this fellow endures to this day, and we have encouraged each other on numerous occasions through the years.
At my second KCWC in 2006, I met a lady who should have a PhD in encouragement. We bonded at the conference, and two weeks later she sent me a story callout that ended up being my first major publication in a book. The more I think about it, the more I realize many of my publishing milestones have come from connections at KCWC. Coincidence? I think not.
You never know what divine appointments and holy introductions God has in store for you at KCWC. The relationships you form are just as important as your signature on a contract. Your work is important, and God may be ready to open doors for your writing. But, remember, God may have your next friend, encourager, or critique partner waiting for you.
It's not too late to sign up for KCWC, June 20-22 at Elizabethtown Community and Technical College. Visit www.kychristianwriters.com for complete information.
Carlton Hughes,
KCWC Planning Committee
Carlton will lead an orientation class for newcomers at 7:30 a.m. on Friday and Saturday of the 2019 conference, "So You're a Newbie." Check the updated schedule for locations.